Return to the Hawaiian Independence Home Page, or the News Articles Index


OFFICIAL NOTICE OF HUMAN RIGHTS VIOLATIONS
An "Official Notice of Human Rights Violations" was delivered to the military at the Army's Stryker hearing on on Tuesday, November 4, 2003 (the anniversary of the U.S. "Proxmire Act" implementing the UN Genocide Convention).
THE INDEPENDENT & SOVEREIGN NATION STATE OF HAWAI'I
"Hawai'i, Global Country Of World Peace"
Date: November 4, 2003 Time: 7:00pm. Place: Turtle Bay Hilton Resort
OFFICIAL NOTICE OF HUMAN RIGHTS VIOLATIONS
NAME:
UNITED STATES ARMY, NAVY, AIR FORCE & MARINES MILITARY AND CIVILIAN COMMANDERS & PERSONNEL
PURSUANT TO:
YOU ARE HEREBY ORDERED:
TO CEASE & DESIST THE ILLEGAL PREEMPTIVE EXPANSION AND BELLIGERENT MILITARY OCCUPATION AND ACTIVITIES OF KA PAE 'AINA O HAWAI'I
YOU ARE FURTHER NOTIFIED:
THAT ANY AND ALL INTERFERENCE WITH THE POLITICAL, ECONOMIC, SOCIAL AND CULTURAL RIGHTS OF NA KANAKA MAOLI IS IN DIRECT VIOLATION OF THE UNITED NATIONS CONVENTION ON THE PREVENTION AND PUNISHMENT OF THE CRIMES OF GENOCIDE, AS CODIFIED IN U.S. PUBLIC LAW 100-606 THE PROXMIRE ACT, NOVEMBER 4, 1988, 18 USC CHAPTER 50A 1091 (A) (3) & (4), 1091 (C) INCITEMENT OFFENSE.
VIOLATIONS OF THESE LAWS:
CARRY STRICT AND SEVERE PENALTIES; INCLUDING A MAXIMUM OF LIFE IMPRISONMENT AND UP TO A MILLION DOLLAR FINE.
NOTIFICATION
NOTIFICATION OF ANY AND ALL VIOLATIONS BY OFFICIALS, AGENTS AND OFFICERS ENGAGING IN ACTIONS THAT THREATEN THE LIVELIHOOD, SUBSISTENT LIFESTYLE, AND WELL BEING OF KANAKA MAOLI (NATIVE HAWAIIANS) WILL BE CONVEYED TO THE COMMANDER-IN-CHIEF AND PRESIDENT OF THE UNITED STATES.
THIS NOTICE SHALL SERVE AS PRIMA FACIE EVIDENCE FOR ALL INTENTS AND PURPOSES, BE IT NATIONAL OR INTERNATIONAL.
IN PEACE,
_______________________________________________________________,
Pu'uhonua Dennis Keiki Bumpy Kanahele, Head of State, Hawai'i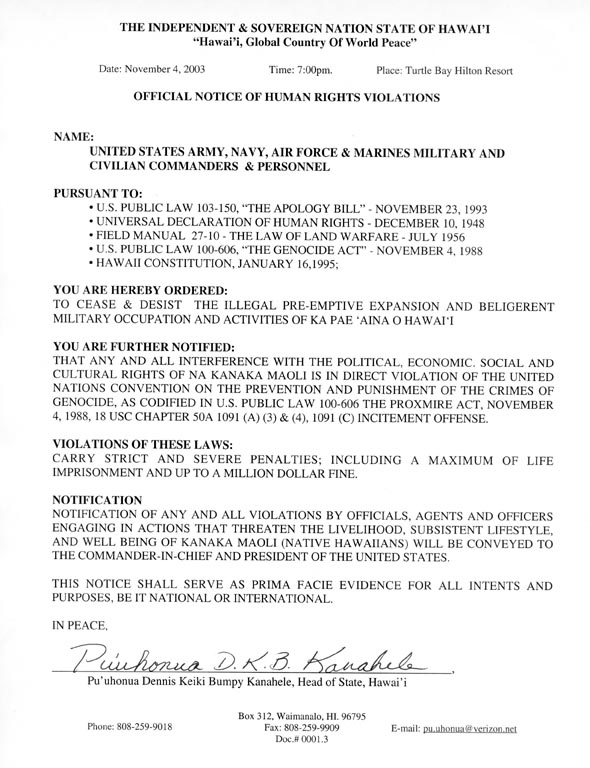 Return to the Hawaiian Independence Home Page or the News Articles Index