Return to the Nation of Hawai`i Home Page


E Ho`omana`o Kakou Ia Kahale
Remember Kahale Smith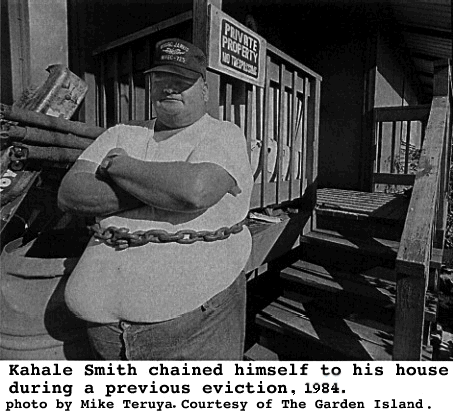 On January 18, 1996, Hilbert C. Kahalelehua Smith lost his life in the flames that consumed his home, which he had ignited rather than let himself be evicted by the Department of Hawaiian Homelands and State Sheriffs, following 18 years of struggle over the home with DHHL. Whether suicide or accident, Kahale's death is a tragedy, and a call for justice for Kanaka Maoli.
Below is a tribute to Kahale by his dear friends Michael and Sondra Grace of Anahola, and following are links to other tributes and related news articles.

KAHALE'S DEATH WILL NOT BE IN VAIN
Hilbert "Kahale" Smith was a friend to everyone in Anahola. He embodied the spirit of aloha. He never had a negative word for anyone and he always tried to bring the divergent parts of our community together. He came to the beach every day, usually in the late afternoon, for a swim and a quiet time with nature. He was a Hawaiian who tried to work in the American system.

It is ironic that he died because of the inability of the Hawaiian Homes Commissioners and the Department of Hawaiian Home Lands to find a solution to twenty-year-old problems. It is ironic because Kahale believed that the Hawaiian Homes Commission Act could work for the native Hawaiian beneficiaries.

In 1985 Kahale and other members of Kahea, Inc. came to our tent at Makapu`u Beach Park. They had heard we were going to be evicted and the wanted to help us. They gave us a copy of the Act and taught us the word "jurisdiction" and they explained why the City and County of Honolulu had no right to arrest us. Thus began our ongoing struggle to get the kanaka maoli people back on the land.

After five years we saw that the answer didn't lie in Hawaiian Homes, but in rebuilding our sovereign, independent Nation. Kahale stayed with his belief that justice could be found with Hawaiian Homes and continued his work with Aupuni O Hawai`i. We honor his determination.

At the same time we hold the Commission and the Department responsible for the death of Kahale Smith. And even more culpable is the Department of the Attorney General and the Governor himself. In spite of thousands of Hawaiians telling them that things had to change, that the system doesn't work, the officials turned a deaf ear to all of us. We went to court, we occupied land, we were arrested hundreds of times, we went to thousands of meetings and hearings. And we must not forget the 30,000 plus Hawaiians who died quietly on the waiting list. Kahale didn't want much. He just wanted his home to be safe and to have something to pass on to his children. And he wanted his Hawaiian people to have justice. Me ke aloha pumehana o Kahale. We will continue your life's work and learn from your aloha. Kahale, you are our hero.
Michael and Sondra Grace
P.O. Box 372
Anahola, Kauai 96703 Hawaii
(808)822-0647

Tributes for Kahale Smith
News Articles

The Honolulu Advertiser, Friday, January 19, 1996
Smith loved, hated Hawaiian Home
Honolulu Star-Bulletin, Friday, January 19, 1996
A step-by-step anatomy of a tragedy
Honolulu Star-Bulletin, Friday, January 19, 1996
Hawaiians angered by fiery death on Kauai
They're outraged at eviction action
Honolulu Advertiser, Saturday, January 20, 1996
Big Island vigil to mourn Kauai homestead activist
Honolulu Advertiser, Saturday, January 20, 1996
State goals, Hawaiian rights issue collide
Honolulu Star-Bulletin, Saturday, January 20, 1996
Critics focus on home land fire death
Honolulu Advertiser, Tuesday, January 23, 1996
2 agencies in accord on eviction decisions
Honolulu Advertiser, Saturday, January 27, 1996
ANAHOLA FAMILY LOSES FATHER AS WELL AS RIGHT TO LAND
Kauai Times, Wednesday, August 28, 1996


Return to the Hawaiian Independence Home Page