Return to the Hawaiian Independence Home Page the News Articles Index, or the Political Prisoner page

Kanahele's state trial delayed until Thursday
Honolulu Advertiser
September 16, 1995

By Mark Matsunaga
Advertiser Staff Writer

The state trial of Dennis "Bumpy" Kanahele, head of the self-proclaimed Nation of Hawaii, on traffic and contempt-of-court charges was postponed yesterday until Thursday.

Meanwhile, he's staying in Halawa prison.

His lawyer, Hayden Aluli, said the U.S. 9th Circuit Court of Appeals this week rejected the final attempt to get Kanahele freed on bail pending an Oct. 3 trial in federal court on charges that he harbored a fugitive.

In a 2-1 split decision, the appeals panel in San Francisco upheld last month's ruling that Kanahele be held without bail until his federal trial.

"The government has shown, by clear and convincing evidence, that appellant poses a danger to the community," the appeals court stated. "The government has also shown, by a preponderance of evidence, that appellant constitutes a flight risk."

Kanahele and his supporters deny that and say that welcome the chance to publicly present their case that the U.S. and state governments are illegally occupying Hawaii.

Aluli said Kanahele is being targeted for "politically motivated selective prosecution."

Aluli said, "I'm troubled by the way the state and federal governments are using - abusing - the process just because he's the most outspoken Hawaiian activist."

Aluli said the appellate decision was handed down Tuesday and that he learned about it Thursday.

The federal case against Kanahele accuses him of harboring fugitive tax protester Nathan Brown last year and interfering with efforts to arrest Brown, who was convinced of felony tax fraud but failed to show up to serve his prison sentence.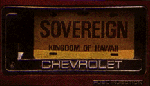 The state charges stem from a 1992 case in which Kanahele was cited for driving a truck without a state driver's license, license plates, registration tag and no-fault insurance. The vehicle had a homemade "Hawaiian Sovereign" license plate link the ones used by many of his followers. When Kanahele failed to answer the citation in court later that year, a bench warrant was issued for contempt of court.
He was arrested on the warrant in July.
Earlier yesterday, Gordon Kaaihue, a "peace officer" for the Nation of Hawaii who had been arrested in a similar traffic case, pleaded no contest to driving without a license or reconstructed vehicle permit and refusing to show identification.
In exchange, nine other charges against him were dropped. Judge James Dannenberg sentenced Kaaihue to perform 23 hours of community service.


Return to the Hawaiian Independence Home Page, the News Articles Index, or the Political Prisoner page