Return to the Hawaiian Independence Home Page, the News Archive or the Music Index

Sudden Rush makes mark with 'Ku`e'
Chant, English lyrics, topical issues combine in Hawaiian rap
Maui Beat
By Jon Woodhouse
The Maui News
Thursday, June 26, 1997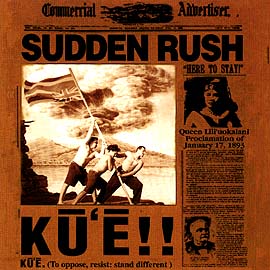 The title of Sudden Rush's latest album "Ku'e" means "to oppose, resist, stand different," and that's exactly what these imaginative Hawaiian rappers accomplish on their powerful new recording. Arriving on the heels of their recent six song mini-album, "Ku'e" firmly establishes this Hilo trio as a potent force in contemporary island music.
Blending Hawaiian chant and English lyrics with hip-hop's gritty dance beat, Sudden Rush create a polished, urban sound on songs that explore topical Hawaiian issues like sovereignty, drug use, and cultural pride. This is no weak imitation of black rap music, but an exciting, innovative hybrid enhanced by guest appearances of such island talent as Keali'i Reichel, Willie K, John Cruz and 'Ehukai.
Employing the space and freedom of rap music, Sudden Rush bombards the listener with a stream of provocative ideas. On highlights like "True Hawaiian" they indict our government for injustices against Native Americans, Africans and Hawaiians. "I strain to ease the pain that my people feel," they rap, "charge grand larceny, Uncle Sam better wash his hands because they're filthy. I can't believe how the government chooses to deceive the people." On the somber "Think About It," they draw attention to the drowning of activist George Helm - "a couple of brothers trying to save Kahoolawe lost at sea, we know the real story."
Founded in Hilo about three and a half years ago, Sudden Rush comprises Don Ke'ala Kawa'auhau Jr., Shane Veincent, and Caleb Richards.
"A lot of people thought the music and the message wouldn't go together," says Kawa'auhau who raps in Hawaiian and works as a Hawaiian language teacher at Hilo's Punana Leo school. "We're all part Hawaiian and the sovereignty issue is coming to the forefront, and we felt we could reach people who maybe don't like to read about it through the medium of music. The message is be proud of who you are no matter what race, and respect the traditions and culture and look at what happened in the past without dwelling on the past. So we try to tell the history as best as we can but not in a mean way, not be angry, and learn how to move on."
Avoiding the demeaning, violent imagery and harsh language of gangsta rap, Sudden Rush focuses more on a positive message. "After I got into entertaining and teaching, I realized musicians and teachers have a responsibility about what kids listen to," Kawa'auhau continues. "We shouldn't glorify violence, but we shouldn't hide it because it's out there. Most of the guys who do the gangsta rap thing have lived it, that's what they know. But they should use what they've learned to keep other people out of what they've been through. I think our stuff is positive and we think it's a good message for the kids. On our first CD there were some songs with a little swearing here and there and we decided to either take it out or mix over it. There's no swearing on our second CD. I'm happy we did that."
While all three love Hawaiian music they chose the medium of rap as a way to express important ideas and reach kids. "Our favorite music is Hawaiian but we got into rap music because the rhythm and beat moves you, and you can really say what you mean without much restriction. There's a lot more you can play with as far as telling a story, you don't have to keep it confined to a short song. We don't consider ourselves rappers because in order to be that, you have to live that lifestyle. We're Hawaiian guys, local guys who like that type of music and use it to get our message across and entertain. People who don't know where we're from think we're from Honolulu. It's understandable because that's the city and rap music came from the city.
Adapting an urban, primarily African-American music form to Hawaii, they have striven for an authentic sound. "When we first got together we didn't want to imitate anybody, or copy anybody," explains Kawa'auhau. "There's a code in rap that you're supposed to rap about what you know, keep it real, so if we were to rap about being in gangs we'd be lying. We talk about what we're familiar with."
Adding some heavy local talent to the mix has contributed to "Ku'e's" allure. Keali'i Reichel joins the group on their single "Don't Blame the Youth," and his potent chant adds a sense of urgency to "Paradise Found."
Willie K contributes some tasty guitar to the Jamaican dancehall flavor of "Run." "We had this song in mind and I wanted a guitar sound on it but we didn't know who to ask," Kawa`auhau explains. "We saw his phone number at our producer's house and our manager called him. We were amazed because he did it in one take. Then he asked if we wanted him to sing too. It was unreal."
With the album selling well all over the state the group is looking forward to expanding their influence. "We want to produce other people because there's a lot of talent on the Big Island," he says. "We want to open a studio here so people don't have to fly to Oahu. The album's in the top 10 in Guam and we've had fan mail from California, and we're looking forward to Japan too. When we started our second CD we were not sure if people would like it. Now we know our goals are attainable, we've just got to push."
---
See the Sudden Rush website.


Return to the Hawaiian Independence Home Page, the News Archive or the Music Index