Return to the Hawaiian Independence Home Page, or the News Articles Index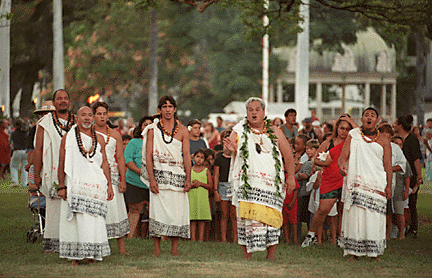 By George F. Lee, Star-Bulletin
John Keola Lake, second from right, chants as torch march ends
on the grounds of Iolani Palace on Monday evening.
Hawaiians look to future with optimism
Many are hopeful that 'one day we will get our lands back; one day we will have a full nation'
Honolulu Star-Bulletin
Thursday, August 13, 1998
By Pat Omandam
Star-Bulletin
Twice this decade, Hawaiian rights groups and supporters have shown they can put aside their political differences and create a single voice while observing key dates in Hawaii's history.
That occurred in January 1993, during the centennial of the overthrow of the Hawaiian kingdom, and this past week's events marking the 100th anniversary of Hawaii's annexation.
Now the question is what to do with such political power.
"I guarantee the movement still will continue," said Mel Lonokaiolohia Kalahiki, a key coordinator of this week's events.
"But we want to move cautiously to the next step. The Hawaiian community needs to understand where we are now before we move to the next step. Then, everything else, when the changes come, will be smooth."
Office of Hawaiian Affairs Chairwoman A. Frenchy DeSoto told the thousands of people gathered at Iolani Palace yesterday she felt a renewed sense of what it means to be Hawaiian.
"I can't help but look at the future with a cautious sense of optimism," she said.
Already, organizers of last week's Aloha March are planning another march on Washington, D.C. -- in the year 2000, with 20,000 people -- to continue national exposure of the plight of native Hawaiians.
"I would like this nation of Hawaii to come back to the people, said Butch Kekahu. "The rightful and honest thing for the American government to do is to correct it. Give back what you stole."
Also on the agenda next January is a Hawaiian sovereignty summit at Kualoa Beach Park to discuss issues affecting self-determination. Organizers of "Ho'omalu ma Kualoa" say the centennial annexation is a powerful reminder of the deep harm that results when strong political interests ignore and overwhelm the will of the people.
And later this month, the Hawaii Advisory Committee to the U.S. Commission on Civil Rights will hold a public hearing at the East-West Center to gather information on the status of civil rights of native Hawaiians, five years after the November 1993 passage of U.S. Joint Resolution 103-150, known as the "apology resolution."
Keali'i Gora of Ka Lahui Hawaii said the annexation observance shows there is hope that native Hawaiians can continue to work together to rebuild a nation.
Education, he said, will unlock the keys so that "one day we will get our lands back; one day we will have a full nation, that we will be able to care, as well as shelter, clothe and house our people."
Ka Lahui governor Mililani Trask asked Hawaiians if they are ready to give their people a choice of a monarchy, an autonomous government, a traditional government or perhaps secession from the United States.
"Are we brave enough to allow all of our people to vote on the choice that America never gave to them? And are we strong enough to live with the decision of the majority of our people?" she said.
DeSoto said Queen Liliuokalani would be proud knowing that 100 years later, Hawaiians finally know the truth about what happened.
"After 100-plus years of colonization, we are still here," DeSoto said. "Give celebration to that fact."
© 1998 Honolulu Star-Bulletin
http://starbulletin.com



Return to the Hawaiian Independence Home Page or the News Articles Index