By Daniel B. Wood, Staff writer of the Christian Science Monitor
OUT of 47 acres of rain forest above this rural seaside village, a group of kanaka maoli - native Hawaiians - are creating what they call the "rebirth of a nation."
Gravel paths lead to and from canvas-covered decks and geodesic dome tents. Blue and yellow outhouses dot the perimeter of freshly planted taro patches. While chickens cluck and finches flit, chain saws and earth movers clear a view of white water reefs below.
"We want to return to the Hawaii of old which is to live simply, off our own land," says resident Gina Maikai. Within 18 to 24 months, she says, these sodless clearings will be a first-class neighborhood of homes, self-sufficient in food, power, and water.
The nascent community is run from a beach-front office compound about three miles away where a giant bear of a man appears in bare feet and shorts to greet visitors.
"Before, we were dissidents. Now, sovereignty in Hawaii has become a household word," says Puuhonua Kanahele, greeting visitors with a hug, handshake, and broad smile. The elected leader of one of Hawaii's most radical pro-sovereignty groups, the Ohana Council, Mr. Kanahele wields a business card with the same golden symbol that graces a large flag behind his desk. Below the symbol - a kahili feather designating royalty - the card reads: Head of State/Hawaii/Independent Nation State.
"Today, we, the kanaka maoli [native Hawaiian descendants] proclaim our right of self-determination as a people in accordance with Article 1 of the United Nations Charter," said Ohana Council member Iaukea Bright, reading a proclamation before a gathering of about 400 on the downtown grounds of the Iolani Palace, residence of the deposed queen. "We hereby reestablish our independent and sovereign nation of Hawaii that was illegally taken from the kanaka maoli on Jan. 17, 1893."
The Ohana Council is one of about six major factions here that have evolved from perhaps 300 splinter groups in recent years into what has become known as the Hawaiian sovereignty movement. Both the number of groups and their membership are growing on all seven inhabited Hawaiian islands.
The US Navy added fuel to the pro-sovereignty fire this year when it returned to the state the small island of Kahoolawe, after an 18-year legal and political battle. The island, used as a bombing and target range for decades, is being held in trust as a possible site for a future sovereign nation - though detractors stress that a two-decade, $400 million cleanup is ahead before the island is inhabitable.
With a newly created Hawaiian Sovereignty Advisory Commission (HSAC) - formed by Gov. John Waihee (D) last year to advise the Legislature - and a scheduled 1995 statewide plebiscite on the issue, federal, state, and local officials have also spurred the debate.
"It is my sincere hope that the sovereignty of the Hawaiian people will be restored in my lifetime," says US Sen. Daniel Inouye (D) of Hawaii. "I stand ready and willing to act on ... legislation at the request of and on behalf of the American people."
"There are few today who doubt that sovereignty will happen," Governor Waihee adds. "It's a matter of how, when, and in what form."
Close observers say most vocal proponents of sovereignty fall into three categories:
Those wanting to maintain the political status quo while forging ahead for both reparations and full control of Hawaiian trust assets by Hawaiians.

Kanahele and the Ohana Council are taking their cue from F.A. Boyle, a professor of international law at the University of Illinois at Champaign-Urbana. Professor Boyle is a globally prominent authority who has advised Palestinian groups displaced by Israel on how to create a viable Palestinian state. He has also won two provisional measures from the World Court on behalf of the Republic of Bosnia-Herzogovina, denouncing genocide of all Bosnians: Croats, Muslims, Serbs, and Jews within the republic.

Boyle addressed the HSAC in December 1993, to discuss implications of the so-called Hawaii Apology Bill, the congressional resolution signed last year.

"Congress is effectively conceding now that the [1959 Hawaiian statehood] vote is meaningless, as a matter of international law and US domestic law," Boyle said. "So you're not bound by it. Rather, I'm suggesting you're now free to determine your own fate pursuant to the principle of self-determination."

Wielding a hammer on a tent deck in the Waimanalo hills, Steve Tayama says he is dedicated to taking the land back so that the state or federal government can never say later that Hawaiians had failed to take advantage of their right to self-determination.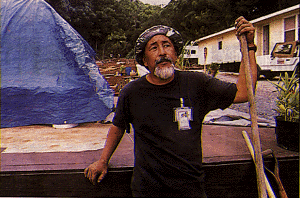 ---
TAKING BACK THE LAND: Steve Tayama and others are helping to create what they call 'the rebirth of a nation.' He and other members of the pro-sovereignty Ohana Council are building a commune in Waimanalo, where they will 'return to the Hawaii of old, which is to live simply, off our own land,' according to one resident.
---
"I saw that independence was the answer for us in 1974," says Mr. Tayama. "The government is illegally in control of these islands and we're taking them back."

He shows inquirers his INSOH (Independent Nation State of Hawaii) driver's license and insurance card, one of 7,000 already issued to Ohana followers. "If you are trying to form a nation, you've got to act like one," he says.

Soon Tamaya expects to be growing his own food, and the commune is investigating plans for generating electricity with solar and bio-gas technologies. The group uses volunteer mechanics and carpenters as well as half-time workers to help with plumbing and farming. Trucks, bulldozers, and equipment have been donated by sympathetic companies, and the group has received grants by various foundations.

"The main thing for now is to get a roof over our heads, have meeting places, and a place to eat to continue the fight," Tayama says. The resident group of 150 includes families with children. Strategy and organizational meetings are held in a large tent that doubles as a mess hall, and administration is performed by a staff of about seven at the beach house.

The state is leasing land to Ohana Council in a 55-year agreement. The idea was part of a settlement to get rid of a 200-resident tent city that had occupied the nearby beaches of Makapuu for over a year in defiance of state law. Members had also erected an ancient Hawaiian heiau, a shrine surrounded by stone walls. The episode gained national attention when members of the Ohana Council passed out leaflets here and at beaches of Waikiki encouraging non-Hawaiian tourists to leave.

Because of such high-profile activism, Ohana has been called the most radical of Hawaii's sovereignty groups.

"Ohana is the most active group of all in pushing for independence," says Boyle. One of Boyle's colleagues, Patrick Sickels - also a veteran in the Palestinian and Bosnian cases - has become Ohana's resident legal counsel, dealing with state, county, and federal officials. He has also helped draft a constitution for an independent nation-state that was ratified during an Oct. 7 to 10 convention of delegates from all over Hawaii.

A moderate approach

The group has been taken to task by other key activists for divisive tactics.

"Our immediate concern is that [Kanahele's] proclamation ... may cause more dissension in our movement," says Kekuni Blaisdell, head of another faction known as Ka Pakaukau. Because Ohana's "tourists-go-home" tactics were played up in the media, Mr. Blaisdell worried that the whole movement might be discredited.

Saying his group seeks reason, justice, peace, and nonviolence, Blaisdell convened a mock international tribunal in August 1993 to hear charges by kanaka maoli against the state. He has circulated a videotape of the proceedings, heard before nine distinguished human rights authorities. The tribunal findings have also been reviewed sympathetically by international human rights officials.

With 20,000 citizens and a written constitution, another pro-sovereignty group known as Ka Lahui, "the nation," is advocating nation-within-a-nation status for Hawaii. Governor Mililani Trask is an articulate advocate who has been criticized for refusing to be represented on Hawaiian Sovereignty Advisory Commission.

A fourth group, boasting 30,000 members, is the State Council of Hawaiian Homestead Associations, which was formed to address the concerns of homesteaders who have been seeking fruitlessly to claim lands made available to Hawaiians before statehood.

But according to observers, the majority of the 260,000 native Hawaiians are silent on the issue of sovereignty. "They are the most important faction of all," says Robert Rees, a columnist for Pacific Business News who puts the number of undecided voters for next year's plebiscite at 200,000.

"I haven't figured out what I want, who's going to rule and how," says cabbie Lois Fogelstrom. She says the issue of who constitutes true kanaka maoli has divided islanders. Many pure-blooded native Hawaiians bristle at legal definitions requiring at least 50 percent pure Hawaiian blood.

"People have assimilated so much with Caucasians, Filipinos, Hispanics, Asians ... it's going to be very complicated for people to try to prove their blood line," she says. By one measure, there will be no 50-percent-or-higher pure Hawaiians left by the year 2044.

Many native Hawaiians, by whatever definition, say they support many or all of the sovereignty groups but are afraid to become formally affiliated or attend regular meetings.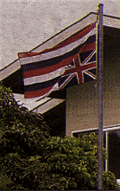 ---
A QUIET PROTEST: A homeowner in Waimanalo shows support for the sovereignty movement by flying the Hawaiian state flag upside down.
---
Shirley Martin, a Waimanalo resident who works as an aid for the handicapped, is looking for custodial work with the state. She shows support for sovereignty activists by flying the Hawaiian flag upside down in the backyard of her Waimanalo home.

"I support [Kanahele] and the others," she says, "but I'm not into getting active. The state will check you out and won't hire you." For kanaka maoli, she says, the issue comes down to decades of federal and state abuse over land.

In 1921, Congress established a "Hawaiian Homes" program, a land trust of approximately 200,000 acres for homesteading by persons of 50 percent or more Hawaiian blood. Because of the political power of sugar interests, trust land consisted of the least-usable agricultural properties on the islands. Stories of administrative neglect of the program over decades by state and federal officials have been legion with thousands of Hawaiians waiting up to seven decades for land, to no avail.

"Is it any surprise that Hawaiians want more than apologies and social services?" asks H.K. Bruss Keppeler, an Oahu attorney. "Many [Hawaiians] want more than just money and land; they want political autonomy."

According to Boyle, several factions on the island are so angry they are contemplating violence. But those leading Kanahele's Ohana Council say open peaceful negotiation is the only way.

A long road to sovereignty

Following in the footsteps of Palestinians, whose state has been recognized by more nations than have recognized Israel, Kanahele's current goal is to get recognition by as many nations as possible as a prerequisite to admittance to the UN. He hopes to address the UN General Assembly in December and meet with with representatives from South American and third-world countries.

According to Senator Inouye, much needs to be discussed before the nation-state could be recognized. "The realities of this day would suggest that if a sovereign nation ... were to be restored, that would have to be with the support of the people of Hawaii and through them, the governments of Hawaii, namely the state and counties ... the Congress of the US and the president."

He adds: "Can the restored nation establish a military? What about police powers? Can this nation develop a nuclear reactor? Would the sovereign entity have jurisdiction over all crimes.... Would all our federal environmental laws apply?"

For Inouye and other top officials, the ball is in the court of the several factions of kanaka maoli to agree on a model and bring it formally to an established decision making process.

Mahealani Kamauu, executive director of the Native Hawaiian Legal Corporation, which has handled legal cases for indigenous Hawaiians for 20 years, does not envision a drastic US exit or continued land grabs by various factions of native Hawaiians. She says Ohana Council, Ka Pakaukau, and Ka Lahui are in the vanguard of a movement that is helping to raise the consciousness of all native Hawaiians by their bold moves. But she feels they all need to embrace undecideds more fully. By 1998, the centennial of annexation, she predicts, "something significant" will be ratified from the context of a constitutional convention and in the form of some document of organic, self-governance.

"The most conceivable and practical solution will be some sort of land base comprising non-contiguous lands located throughout the island chain, including certain claims to water, mineral and other natural resources," she says. "After 1998 however, agitation toward complete independence will continue and not abate. We are a free people and can't let go of that vision. Our challenge is to make others - both Hawaiian and foreign - see that that vision makes sense."

(c) 1995 Christian Science Monitor. All rights reserved.


Return to the Hawaiian Independence Home Page or the