Return to the Hawaiian Independence Home Page, or the News Articles Index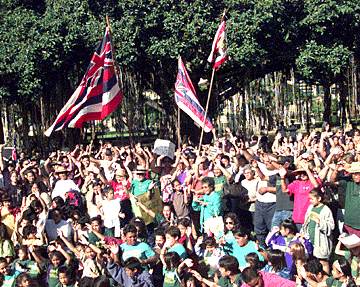 By Ken Ige, Star-Bulletin
A group of about 500 protesters marched this morning
to oppose a bill that would dissolve several Hawaiian agencies.
---
Waianae students
join Capitol protest

The demonstration is aimed at
heading off a bill that creates
a state trust for Hawaiian affairs
Friday, January 30, 1998

By Pat Omandam
Star-Bulletin

Hawaiian Studies teacher Linda Galindo gave her 43-member class an option today of staying at Waianae High or participating in a demonstration at the state Capitol.

"This is our option," said 16-year-old Kuu Yomes, a Waianae junior who was among dozens of students who decided the march and rally gave them a political insight into Hawaiian affairs that no classroom could offer.

About 500 this morning gathered at Thomas Square for the 10 a.m. march to the Capitol rotunda. The exuberant crowd recited Hawaiian songs and chants, before the Hawaiian rap group Sudden Rush performed a rap song that got both kupuna and keiki waving and chanting to the hip-hop music.

The rally and overnight vigil was indeed directed at state Rep. Ed Case (D, Manoa), who has introduced a bill that gives autonomy to Hawaii's native people through a state-created corporation.

House Bill 2340 would create a Native Hawaiian Trust Corporation to handle all aspects of Hawaiian affairs now held by agencies such as the Department of Hawaiian Home Lands and the Office of Hawaiian Affairs. The bill will be heard tomorrow by Case's Hawaiian Affairs Committee.

But many Hawaiians are opposed to the measure because they believe the federal government, not the state, can grant sovereignty.
[Note: This is inaccurate - sovereignty already exists and was recognized in US Public Law 103-150, and neither the state nor federal governments ca "grant" sovereignty for Hawai`i]
During the march this morning, a dozen Hawaii flags bobbed among the mass of people who occupied two lanes of Beretania Street along the quarter-mile stretch. At the Capitol, they were met by hundreds of children from Hawaiian immersion schools.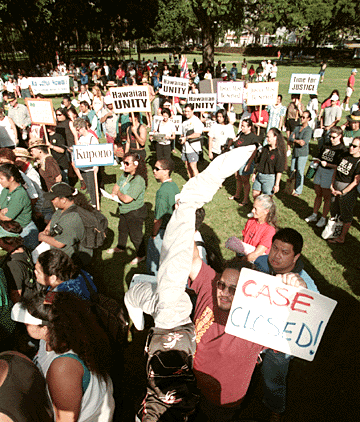 By Ken Ige, Star-Bulletin
Waianae students were evident at the
protest againt Rep. Ed Case's bill.
---

Kumu Kalae Akioka of Puohala School in Kaneohe said the children were there only to observe, and to witness events that will affect them.

Office of Hawaiian Affairs Trustee Rowena Akana said all Hawaiians have a common thread spiritually that cannot be suppressed or captured. This spirit will drive the sovereignty effort forward to a point where this "sleeping giant" must be reckoned with by the state and federal governments, she said. "The momentum will grow and nothing will stop it."

Hawaiian activist and physician Kekuni Blaisdell scanned the crowd and observed, "Pretty good, eh?" In his hand was a placard that read: "Case Closed."

Case has said he wants the discussion of sovereignty to continue following the work of the Hawaiian Sovereignty Election Council.

The bill's main intent is to establish a structure for sovereignty within the state, providing an overall base for future decisions on Hawaiian affairs.

Already, the co-chairs of the Senate Water, Land Use and Hawaiian Affairs committee have indicated the bill will not survive if it makes the crossover from the House.

Sen. Malama Solomon (D, Kohala) yesterday urged senators to end divisiveness along ethnic lines and focus on recognition at the federal level that Hawaiians are a sovereign entity.

She asked colleagues to oppose the bill, saying:

"We need to speak in a single voice, directed to Washington.

"We cannot allow our legitimate goals and aspirations to be frustrated by those who would tantalize with futile, impractical or just plain wrong-headed ideas.

"If we do, we will remain divided and impotent."

© 1998 Honolulu Star-Bulletin
http://starbulletin.com



Return to the Hawaiian Independence Home Page or the News Articles Index