Return to the Hawaiian Independence Home Page or the Annexation Legal Documents Index



ANNEXATION HAWAII : Fighting American Imperialism
By Thomas J. Osborne, 1998
ISBN 0-9633484-1-8

Island Style Press, P.O. Box 296, Waimanalo, Hawaii 96795

Autographed copies, $22 postage paid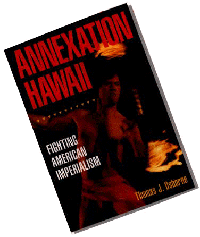 Annexation Hawaii is not a long-winded, self-serving, opinionated, nepotistic, regurgitation of a rogue grandfather's audacious attempt to whitewash grand larcenies layered on by five generations of missionary/businessmen who came to do good and betrayed their Polynesian hosts to become arrogant, imperialistic multi-millionaires.
Annexation Hawaii is a meticulously factual account of the arduous attempt to annex Hawaii 1893-1889. Professor Thomas J. Osborne, acclaimed by his colleagues as a distinguished scholar, deals in facts. Happily, he has no enlightened self-interest ax to grind and no hypocritical ancestors to defend.
Stephen T. Boggs, Emeritus Professor of Anthropology, UH Manoa
---
...rich...splendid, a thorough review of sources...concise, solid, lucid explanation... deserves the attention of scholars of American expansion in the Pacific.
The Journal of American History
---
...a litany of anti-imperialist concerns over Hawaii's annexation as an "entering wedge" for further acquisition of overseas territories...and the historical and moral dilemmas contained therein.
Institute for Polynesian Studies
---
...people believe that "imperialism" won out for military reasons. Osborne shows convincingly that commerce won out instead. America...seen as an "economic imperialist nation."
The Christian Century
---
... honest, fair-minded...a clearer view of the complexity involved in this important episode in American expansion.
The Western Historical Quarterly
---
...Osborne's book is a worth contribution to the historiographies of anti-imperialism...challenging...a solid accomplishment by an able scholar.
Review in American History
---
...intelligent, judicious and convincing.
The Pacific Historian
---
...detailed description...rich discussion... abundant new material.
American Historical Review



Return to the Hawaiian Independence Home Page or the Annexation Legal Documents Index