Return to the Hawaiian Independence Home Page, or the News Articles Index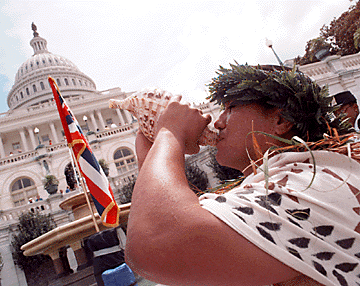 By Parker Daniell, Special to the Star-Bulletin
Manu Ikaika of Washington's Hula Halau Mahina o Wakinekona blew a conch shell
to mark the start of the Aloha March in Washington.
Aloha March begins in D.C.
The event is drawing support and attention to issues important to native Hawaiians
Honolulu Star-Bulletin
Friday, August 7, 1998
By Pete Pichaske
Star-Bulletin
WASHINGTON -- One hundred years after Washington came to Hawaii with the federal government's unwanted decision to annex the islands, Hawaii has come to Washington with chants, leis, drumming and an angry, anti-annexation message.
The long-planned Aloha March began here today as 100-150 native Hawaiians and their supporters kicked off a two-day demonstration they hope will focus national attention on what they consider a dark day in U.S. history and also move native Hawaiians a step closer to autonomy.
"This had to be done. We have come and we have delivered our message," said march organizer John "Butch" Kekahu of Kauai during an hourlong ceremony in the Capitol building's Statuary Hall.
"Now, let freedom ring."
"We've been waiting 100 years, and that's a long time," said Kekahu's mother, Mikala Koani Kekahu. "To the people here that work in this big area, we say: 'Please, listen to us.... Give us back what you have for us.'"
The demonstration opened at noon today on the west side of the Capitol with a ritual blowing of a conch shell, hula dancing and prayers in English and Hawaiian.
Chief Billy Red Wing Tayac of the Piscataway Indian tribe, which still claims Washington as its own land, welcomed the Hawaii contingent and displayed the kinship for which organizers were hoping.
"We're the same people. We have the same history," said Tayac. "Our land also was stolen. We support the Hawaiian people 125 percent and we hope their land someday will be returned to them."
Inside, at the Statuary Hall ceremony, march participants heard messages of support from Sen. Daniel Akaka and Rep. Patsy Mink, delivered by their aides, and a rousing speech from Rep. Eni Faleomavaega, American Samoa's nonvoting congressman, who was raised in Hawaii.
The demonstrators included scores of Hawaii residents who traveled 5,000 miles to join the march, as well as sympathizers from across the nation.
"Annexation may have been timely then, but it isn't now," said Louise Franklin Ramirez, 92, who attended the rally with a contingent from the Gray Panthers of Metropolitan Washington.
"I think this is terrific," said Bryan Watson, who was born and raised in Hawaii but now lives in Michigan. "This makes people realize that it's not all fun and games in Hawaii."
Watson and his 13-year-old daughter, Jessica, drove 10 hours from his home to attend the rally and will drive home again Sunday. "I was just explaining to some people here who've never heard how Hawaii was annexed," he said. "They were astonished."
"Not too many people here know about annexation and the native Hawaiians, and it's an important part of our history," said Tricia Obester, a grade-school teacher in Fairfax, Va., whose father lives in Hawaii.
Organizers, eager for attention for their event, were pleased with the early news coverage of the demonstration: prominent play on today's National Public Radio morning news program; stories in both daily newspapers, the Washington Post and the Washington Times; and film crews from several local and Hawaii TV stations.
In a related event here today, native Hawaiian David Keanu Sai filed a complaint with the U.S. Supreme Court claiming that the annexation of Hawaii was illegal because previous treaties had not been terminated and the annexation was not approved by the Senate.
After the noon ceremony inside the Capitol, which included placing a lei on the statue of King Kamehameha, demonstrators returned outside for a 24-hour prayer vigil. The actual march will be held tomorrow, when participants will walk from the Capitol to the Ellipse near the White House.
You can follow along with the Aloha March at http://www.hawaiian.net/~cbokauai/butch.html.
© 1998 Honolulu Star-Bulletin
http://starbulletin.com



Return to the Hawaiian Independence Home Page or the News Articles Index