Return to the Hawaiian Independence Home Page, or the News Articles Index


Director Crowe calls 'Aloha' his 'love letter' to the isles
Honolulu Star-Advertiser
Thursday, May 28, 2015
By Ed Rampell / Special to the Star-Advertiser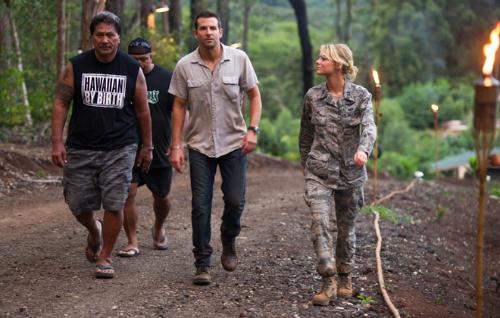 COURTESY SONY PICTURES
Native Hawaiian sovereignty activist Dennis "Bumpy" Kanahele, left, with Bradley Cooper and Emma Stone in a scene from "Aloha" that was shot at Kanahele's Waimanalo compound. The film opens Friday.
LOS ANGELES » "Aloha" writer-director Cameron Crowe made a surprise appearance at an advance screening of his new film Tuesday in Los Angeles, calling it his "love letter to Hawaii."
The romantic comedy starring Bradley Cooper, Emma Stone and Rachel McAdams, and featuring Native Hawaiian sovereignty activist Dennis "Bumpy" Kanahele, has met with considerable controversy even before its release Friday. Some Native Hawaiians, including Hawaii State Film Commissioner Donne Dawson, slammed the film for its title, saying "aloha" has a deep spiritual meaning and the movie's use of it perpetuates misrepresentations of Hawaiian culture. Additionally, the Media Action Network for Asian Americans complained about the dearth of Asians and Pacific Islanders in the story about a celebrated military contractor who returns to Hawaii and reconnects with a former love while unexpectedly falling for his Air Force escort.
Local concerns about the use of "aloha" have gone national, with panelists on Fox News' "The Five" discussing the controversy Wednesday.
The film's studio, Sony Pictures Entertainment, released a statement Tuesday saying "Aloha" "respectfully showcases the spirit and culture of the Hawaiian people."
Crowe "spent years researching this project and many months on location in Hawaii, cultivating relationships with leading local voices," the studio said. "He earned the trust of many Hawaiian community leaders, including Dennis 'Bumpy' Kanahele, who plays a key role in the film."
Crowe, whose films include "Jerry Maguire" and "Almost Famous," shot the movie in Hawaii last year. Its original title was reportedly "Dark Tiki." Standing in front of the screen at the Pacific Theatres at The Grove on Tuesday, Crowe praised the state's "land, sky and sand" and described his time in the isles as a profound, cherished experience. ("Aloha" was screened for Hawaii reviewers Wednesday.)
"Since then lots has been heard from people who have never seen the movie," he said.
Sure to rankle many in Hawaii is the fact that blond actress Emma Stone's character is a part-Hawaiian Air Force fighter pilot named Allison Ng.
While most of "Aloha" is set at Joint Base Pearl Harbor-Hickam, Crowe filmed a luau at Kanahele's 45-acre compound in Waimanalo. Kanahele, who served as a cultural adviser on the film and plays a version of himself, told the Honolulu Star-Advertiser that Crowe's picture "deserves the name 'Aloha.'" He and other Native Hawaiians who worked with the filmmakers said their interactions with the cast and crew were warm and respectful and that the director was genuine about providing an authentic picture of Hawaii.
Kanahele said in a telephone interview Wednesday that he appears on screen in about six scenes or so, including one in which he is planting taro with Cooper near the compound's heiau. The most prominent local character in the movie, Kanahele's dialogue includes mentions of the 1893 overthrow of the Hawaiian Kingdom and critical comments about the U.S. military presence in the islands. He also wears a T-shirt proclaiming, "Hawaiian By Birth, American By Force."
In the film, Kanahele's Pu'uhonua o Waimanalo village is introduced as a mystic, misty place that, as Ng says, has lots of "mana." Cooper's character, Brian Gilcrest, and Ng are at first received coolly by the Hawaiians, but when Kanahele appears, he warmly welcomes them, fist-bumping Gilcrest, with whom he clearly shares a past.
Gilcrest and Ng are there to ask Kanahele and his group to perform a blessing at the gate of a new project. The Hawaiian leader negotiates a land swap -- and cellphone service -- in exchange.
During the encounter, musician Ledward Kaapana plays slack-key guitar and Ng joins him in a rendition of Liko Martin's "Waimanalo Blues," which laments overdevelopment. (Along with rock hits, the soundtrack of "Aloha" includes many Hawaiian songs.)
Another source of controversy is likely to be that Kanahele is identified on screen as being descended from the Kamehameha royal line and is repeatedly called "king" in reference to his being the head of a movement to restore the Kingdom of Hawaii. (Kanahele said that while he claims to belong to the Kamehameha lineage, no one refers to him as "king" off screen.)
At the end of Crowe's brief remarks before the invitation-only screening, he repeated that the movie doesn't "cease to be a love letter to Hawaii. I hope you enjoy it."
With the movie opening nationwide Friday, he can only hope the public relations adage that "all publicity is good publicity" will prove true with a boost in "Aloha's" box-office take.
© 2015 Honolulu Star-Advertiser
http://www.staradvertiser.com/news/breaking/20150527_filmmaker_responds_to_aloha_controversy.html



Return to the Hawaiian Independence Home Page or the News Articles Index